Out of consideration I've included a tl;dnr section at the very bottom...
I know what you have been thinking:
"when are those handsome, charismatic, and awesome guys who threw those high-class
21+ meet n' greets
ever going to announce theirs?"
Well I'm glad you asked because now is the time where I tell you when and where you can get the 2013 ACen weekend started!
Yay~
In previous years we've been partying at Shoeless Joe's just 1.5 miles down the road. With every year that's gone by, I've gotten to meet a whole slew of you good people prior to the convention weekend and it was always awesome! I'd run into people randomly out of the 25k people at the convention and be like,
"I saw you at the meet n' greet!"
Crazy, right?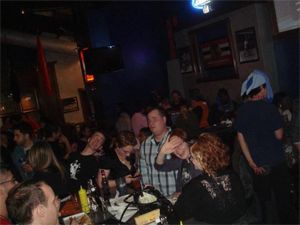 Photo evidence of this so called "fun" in progress
---> FACEBOOK: Thursday Late Night Meet n' Greet v3 event page <---
For some, it was difficult to get to Shoeless Joe's due to issues with transportation, but you can cast all your worries aside this time around. The new 21+ spot is literally ACROSS the street from the convention center! We have a new venue that has emerged from the shadows of Rosemont and a new king has been crowned. We present to you...
Kings
! (
http://kingsbowlamerica.com/rosemont/
)
Kings
is a lounge style bowling alley featuring a full service restaurant with a diverse food and dink menu. Inside are two bars with some of the tastiest cocktails I've had the pleasure of pounding down. There are also billiard tables if all that other stuff wasn't enough for you.
We will be hosting from
9 pm to midnight
so come on down and hang with us! Although it's not confirmed yet, I'm trying to work out having a complimentary photo booth set up for anyone who wants to have their picture taken to remember our magical time together. Aww~
Spread the word and we hope to see everybody there!
Keep posted for updates from either NinjaJedi007, YoungBirdcall or myself as they come along OR feel free to leave a message on this thread or via PM!
n_n
P.S. Cosplay has been
approved
by the bar but keep in mind it should follow dress code appropriate for a public place.
===============
tl;dnr section
===============
WHERE:
Kings
(
http://kingsbowlamerica.com/rosemont/
)
5505 Park Place, Rosemont, IL 60018
WHEN:
Thursday, May 16th from 9PM - midnight
FEATURES
-Full restauant and bar
-Thursdays are ladies night at Kings which means free bowling for the girls!
-Billiards
-Everlasting friendship
- ???
-Profit
BONUS STUFF!

RonDo's Bowling Challenge 2013
Beat me (Rondo) at a single game of bowling and I'll buy any drink on the menu with the exception of the big baller or wine bottles (Will contribute a third of the cost). Yes, it does include King's Big Balls for two.
===============
This post has been edited by HiroEcks: 17 March 2013 - 09:17 PM