UPDATE 4/15: I talked to the bar/restaurant and they are going to be seating my group and anyone who decides to join us on Thursday in the front area again. So when you walk in we should be in the section immediately behind the host stand.

UPDATE 4/11: Send me a PM and we can trade contact info if anyone wants for things like directions, where are you??, and what are you thinking about types of questions.
Okay. Just to get it out of the way, this is a
21+ event
. Sorry kids but the place wont even let you in. :-(
btw
THIS IS OPEN TO ANYONE AND EVERYONE
!!! Please come by if you like any or all of these
1) food
2) drinks
3) socializing with randoms from the con who probably want to be your friend... or stalk you :-D
Back due to popular demand (mostly by just my friends and myself), we are going to be having another gathering on Thursday night of ACen weekend. The venue, like last year, will be
Shoeless Joe's
in Rosemont, located at the corner of
Mannheim and Higgins
. A lot of good folks ended up making it out last time and we had some good laughs. So if people are feeling sociable or just want to show up to lurk in the corner (that's fine too) then by all means come join us for food and merry making! Much raging is to be done to kick of what should be a moderately to super fun weekend.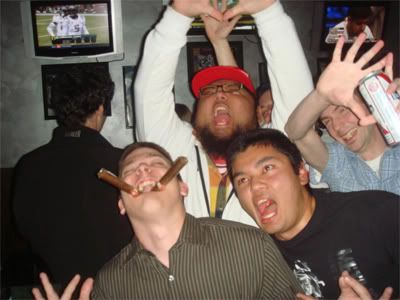 On location. I don't know if showing this is a good thing or a bad thing, but this is basically how we are all the time...
We will work out specifics a little closer to the date, but probably like last year, we will plan on being there at around
@9PM-ish
till closing which is 4am. So people should have plenty of time to stop on in and say, "
oh hey~
"
WHERE: Shoeless Joe's ale house & grille
www.shoelessjoesrosemont.com
10290 W. Higgins Rd, Rosemont
WHEN: Thursday 26th from 9PM - 4AM
And just to throw this out there, my group of friends were considering doing a daytime trip to the newly built
Rivers Casino
that same day and wanted to see if other would be possibly interested in coming with. Plans are still tentative at this point but figured we would just throw that out there to see what anyone else thought.
Post here with any questions or things of the like otherwise hit me up with a PM!
This post has been edited by HiroEcks: 23 April 2012 - 12:27 AM