Cutie Pai is a self produced (cosplay) idol group. They wear many different kinds of outfits, all made by Makiguchi Youko. Unlike many other idol groups, the Cutie Pai girls sing and dance well, produce great music, all in addition to being cute.
Cutie Pai writes their own songs, and their debut single Reflection Love went on sale September 10, 2002! Their second CD Hello! Cutie Pai went on sale January 13, 2003. Their third CD Tamaniha Konna Koino Hajimari went on sale April 20, 2003.
Cutie Pai has held many of their "own" events, and have also appeared as guests in many other events.
The lead solo unit of Cutie Pai is "Mayu-chan". The stunning girl in red glasses
Mayu has worked on songwriting of all music, the presence of the one and only unrivaled, including the activities and visual form.
The music has a sound of HAPPY love and magic, and puts on a terrific LIVE performance, full of participation, fun, and visual.
CD creation, and organized event planning is (cutie pie) idol unit of "DIY Style", and was Formed in April 2001.
Members:
Mayu
Amano Ai
Mary
Performance under the character set is described as "doll magic came to the human world"
The official Cutie Pai website can be found here:
http://www.cutiepai.net/
Cutie Pai has also been featured in the popular international rhythm game, Groove Catch.
Songs Featured :
Yes No
Techno Doll
Yellow
Music Rendezvous
Eve
SA
Cosmic Girl

I think Cutie Pai would be a great addition to the list of performers. They make their own costumes, and cosplay, so they fit in with the ACen atmosphere perfectly! Their music is amazing, and their performance would be more than just entertaining, but memorable. Please consider bringing them to ACen :3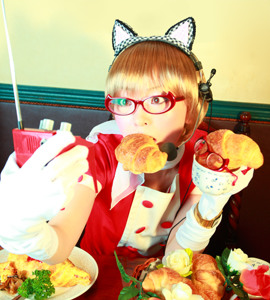 This post has been edited by xxBCfreakxx: 01 October 2013 - 08:06 PM